Our History
Despite being a new radio station, West Kent Radio has a long and rich history that can be traced back to the early sixties.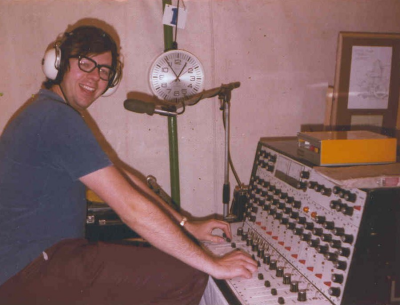 Early broadcasts from Hospital Radio Tunbridge Wells started in 1961 when a team of ladies at the Kent and Sussex hospital started entertaining patients with a request show called Strictly Off The Record.
In around 1963 or 1964 a young chap called David set up and ran, for about a year, a programme which was taped at home on Thursday nights, then fed through the hospital radio system from the chapel on Saturday mornings for about an hour. It was a magazine-type programme made using a small portable tape recorder. The programme contained interviews with local and national celebrities, as well as getting short pieces from local shops and places of interest.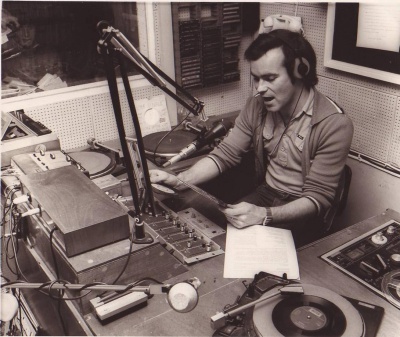 In 1969, three miles down the road, a new hospital radio service was being put together using a portable unit and an ancient rack of valve equipment. Over time this went on to become Radio Pembury whose home was a cellar under the hospital which became affectionately known as "The Dungeon".
The Leagues of Friends of the two hospitals came together to link the stations creating the now-familiar Hospital Radio Tunbridge Wells. By the mid seventies, six hospitals were linked to the network, based in the Kent and Sussex hospital. Four of these, the Kent and Sussex, the Maternity Home, Hawkenbury, and Homeopathic Hospitals no longer receive the service or have closed.
In 1973 Cliff Richard gave his support by paying for a line to be installed from the Assembly Hall to allow concerts to be broadcast, he performed the first live concert broadcast by Hospital Radio Tunbridge Wells.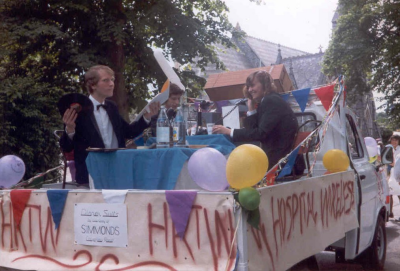 Hospital Radio Tunbridge Wells on soon the move. In 1980, the station moved from its home in the Kent and Sussex hospital, due to hospital expansion, into a Portakabin studio within the grounds of Pembury hospital from where the service continued until 1996.
Hospital Radio Tunbridge Wells briefly experimented with Television by broadcasting live pictures and sound from the Tunbridge Wells carnival in 1986 and 1987. Audiotapes of this pioneering experiment still survive in our archives today.
The service was extended to Sevenoaks in 1988, but this was discontinued in 1991 as the Sevenoaks League of Friends decided they could no longer afford the landline as the hospital was going through a period of changes, which required their funds.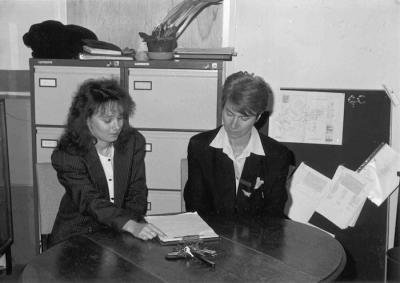 In 1990 the team launched a project to raise funds to build and equip purpose-built studios at the Kent and Sussex hospital, following announcements that the Portakabin at Pembury would be removed as part of a redevelopment plan for the hospital site. After six years of fundraising £55,000 enabled the team to move into their new studios at the Kent and Sussex hospital. The studios were formally opened and named in memory of Ashley Hale, by his parents.
In 2003 a grant was obtained from the National Lottery's Awards For All scheme. This allowed the studios to be equipped with a sophisticated computer system, giving the station the ability to provide a service twenty-four hours a day seven days a week.
In early 2006 the station had to say a sad goodbye to Pembury Hospital after over 30 years of service. Due to the restructuring of services by the Trust and difficulties with old and worn-out equipment, we were unable to continue to serve them in their current incarnation. The old Pembury hospital site was to be redeveloped into the new £230 million Tunbridge Wells Hospital at Pembury.
With the planned closure of the Kent and Sussex hospital looming, our future looked uncertain in 2010 when, despite many years of careful negotiations and planning, we were unable to find space in the new hospital being built on the old Pembury site. Further disappointment came when we were unable to secure space for our new home despite help from the local council. In 2011 it seemed that we were out of options and time.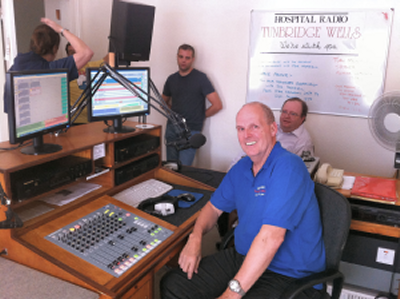 We decided that we had to continue, especially as this was our 50th anniversary year, so we began looking at commercial premises and, after some negotiations, we signed a lease to our new home in September 2011 thus securing our future for the next ten years.
Taking advantage of all this experience, the team decided to form West Kent Community Radio, the charitable organisation responsible for launching a brand new radio station for Tonbridge, Tunbridge Wells, and surrounding areas; West Kent Radio.
Today, the team continues to provide a radio service to patients in the Tunbridge Wells Hospital at Pembury and the Tonbridge Cottage hospital but now exist "on-air", online for the moment, as West Kent Radio and we continue to play a wide mix of music, live events, competitions and much more.
We're always looking for more volunteer members to help maintain the service and help with raising funds. If you have some free time and would like to get involved, please contact us using one of the methods shown on the contact us page, and maybe you can help write the next chapter in the history of West Kent Radio.
Mona Channet

7:00pm - 8:00pm

Pure 80's

Evening Show

8:00pm - 10:00pm

Evening Show