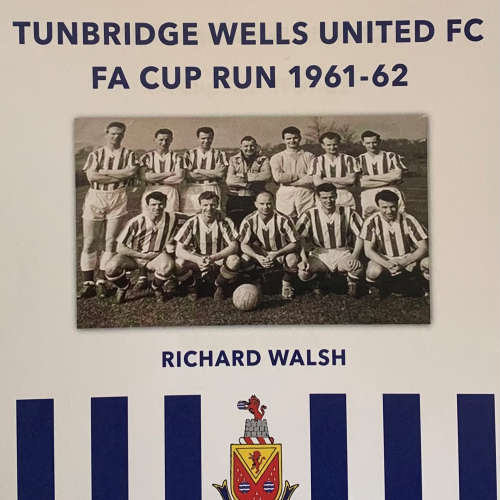 Taking us back 60-years this month.
In the Autumn of 1961, Tunbridge Wells United enjoyed a successful run in the F.A.Cup which was only ended when they were beaten away by Aldershot who were at the time leaders of the Fourth Division.
What makes this achievement all the more remarkable is that Tunbridge Wells United had not won a single game in Southern League Division One that season and yet they triumphed in the four preliminary rounds of FA Cup, three of which were away from home.
The most impressive of the four victories was beating Tonbridge, who were in the Southern League Premier at the time in front of 3000 fans at the Angel Ground.
The FA Cup run started on September 9th 1961- almost exactly 60 years ago to the day with a home win against Maidstone United at Eridge Road
Long-time Tunbridge Wells supporter Richard Walsh who grew up locally and attended each of the FA Cup matches has produced a 64 page book to commemorate this feat- the last time that the club has reached this stage of the competition.
In researching the book the author has spoken to all of the five players who remained alive from the FA Cup run, which is now sadly four, and produced pen pictures of each which forms the first part of the book.
The second part contains match reports and pictures from each of the games and in the final section, each of the remaining players shares their recollections of this memorable FA Cup run.
In addition, Derek Carey who was on the Board of Directors at that time has kindly supplied the foreword.
This Saturday afternoon (11 September 2021), at the Culverden Stadium where Tunbridge Wells FC are hosting Roffey in the FA Vase kick-off at 3 pm, the author will be present to launch Tunbridge Wells United FA Cup Run 1961-2.
Three of the players who appeared in that run Alan Back, Joe Hall and Peter Peters are also hoping to be present along with former Tunbridge Wells United director Derek Caery.
The book will be on sale on the day and is priced at £5 with half of the money from the sales on the day being donated to Tunbridge Wells FC funds.