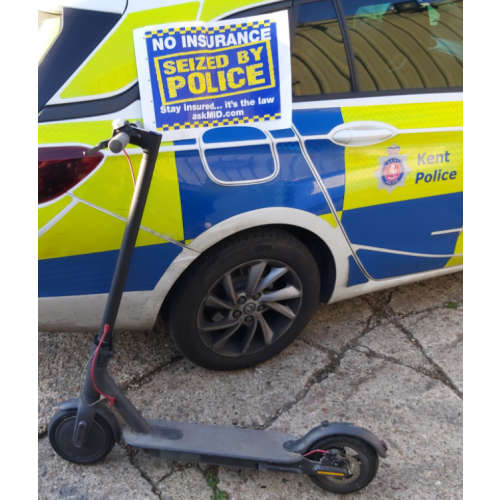 Hildenborough and Tonbridge see police checking illegal scooters
Targeted patrols are being used in Tonbridge to deter the illegal use of electric scooters on roads and in other public areas.
Proactive checks are being carried out across the town centre, as well as locations nearby including Hildenborough, following concerns over the safety of riders, as well as pedestrians.
E-scooter owners can expect to be stopped by police during two days of heightened enforcement, on Wednesday 13 and Thursday 14 October, when riders found breaking the law will initially be spoken to and given advice and reminders around the current legislation.
Warnings
Anyone stopped and who is found to have ignored previous warnings or advice faces being fined or having their e-scooters seized and destroyed.
An e-scooter was recently confiscated by officers in Quarry Hill Road after a teenager was stopped and found to have no insurance.
PC Ed Moore, of the Tonbridge and Malling Community Safety Unit, said:
'We are aware of reports of people riding e-scooters to work or to the train station, as well as the dangerous use of these vehicles on pavements, which can pose serious risks to the safety of pedestrians including elderly people.'

Owners need to be aware that e-scooters fall under the same laws and regulations that apply to all motor vehicles and that they require insurance, road tax, a valid driving licence and registration.'It is also important to understand that the law currently states that e-scooters are not permitted for use on public roads, pavements, cycle lanes and or in pedestrian-only areas. They are only permitted on private land with the landowner's permission and in certain parts of the country where the Government has permitted trials.'